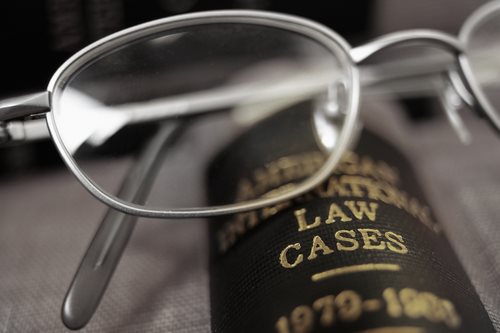 What You Must Know About Arkansas Lawyers:
Arkansas lawyers are legal professionals who are licensed to practice law and litigate on behalf of clients in the state of Arkansas. Because of the broadness attached, Arkansas lawyers may specialize in any branch of law associated with the local or federal system.
Arkansas lawyers display an inherent knowledge for Arkansas statutes; experience with these laws ensures the delivery of sound legal aid to residents of the state or for those individuals that come across legal quandaries in the state.
Arkansas lawyers are deemed eligible to practice law in the state after passing state's bar examination. Before taking the Bar examination, prospective Arkansas lawyers must first attain a post-graduate degree from an accredited law school.
Obtaining an Arkansas license to practice law deems the holder well-versed and ready to litigate on behalf of clients. This familiarity permits licensed Arkansas lawyers to expedite the search for legal remedies, construct legally-binding contracts or represent individuals in the midst of business transactions. Legal issues pertaining to Arkansas's statutes must be handled by Arkansas lawyers.
Do I Need an Arkansas Lawyer?
Arkansas lawyers litigate on behalf of clients who face legal predicaments within the state's jurisdictional boundaries. The location of the quandary and the laws associated are central when evaluating your particular need for an Arkansas lawyer.
Will I Need a Specialist?
To bolster efficacy, you must hire a specialist. Hiring a specialist, in essence, matches your legal plight to an Arkansas lawyer's focus or legal specialty. To hire a specialist, you must first evaluate the laws surrounding your claim. Isolating the field of law enables you to filter your search for effective representation. For instance, if you are looking to file a medical malpractice claim, you must hire an Arkansas lawyer that is well-versed medical malpractice filings. Matching an lawyer's specialty with your particular case, promotes the construction of a sound claim.
In addition to pinpointing the laws of your legal matter, you must evaluate your need for legal representation. To do this, you should develop a cost-benefit analysis. This model will assist you in gauging the real value of hiring an Arkansas lawyer. In general, if your case can be settled out of court or if filing a claim—upon review of the costs associated–is frivolous, you should avoid hiring an Arkansas lawyer.
Searching for Arkansas Lawyers:
When searching for Arkansas lawyers, you must exploit all available resources.
Do the following, when searching for Arkansas lawyers:
1.
Using popular Internet search engines, conduct inquiries to locate all Arkansas lawyers in your geographical region.
2.
In addition to Internet searches, you should contact the Arkansas local lawyer referral service. This database, which is provided by the Arkansas BAR association, will list all Arkansas lawyers based on specialty or representing firm. Moreover, this service lists the particular lawyer's accomplishments (awards, distinctions etc.) and disciplinary actions if applicable.
3.
Utilize Internet forums and peer review services to gauge the efficacy of all desired Arkansas lawyers. These resources act as assessment tools; they are necessary to gauge the experience and ability of the prospective counsel.
4.
Convers ate with family members, friends and acquaintances that have experience with Arkansas lawyers. Referrals and provide a reputable opinion of a particular legal professional.
5.
After accumulating a list of Arkansas lawyers, inspect their biographical information, including their experience and educational background.
6.
Aside from the individual's biographical information, you should also inspect the professional's case history. Evaluate the counsel's profile and client list. If you cannot obtain this information, contact the individual's firm and request the necessary information.
Evaluating Personality and Experience:
After reviewing the above information, you must narrow your list of prospective Arkansas lawyers to a select few. All Arkansas lawyers on the revised list must be contacted via phone or email. During this initial correspondence you should inquire about the availability of preliminary meetings or consultations. The availability and cost a consultation is dependent on your particular case—typically Arkansas civil lawyers will offer free consultations.
Regardless of cost, consultations are vital, because they allow you to evaluate the Arkansas lawyer firsthand. When meeting with Arkansas lawyers should observe the following characteristics:
1.
Does the prospective Arkansas lawyer listen well?
2.
Does the prospective Arkansas lawyer demonstrate abilities that your legal matter will be resolved in a cost-efficient manner?
3.
Can the prospective Arkansas lawyer elucidate your legal matter in an easy-to-understand way?
4.
Evaluate the professional's staff; the majority of Arkansas lawyers will be flooded with casework, prompting a delegation of work to their underlings. Because of this, it is important to observe the lawyer's office and the actions taken by particular employees of the firm.
These evaluations, although important, are always trumped by the individual's experience.
Experience is the most important attribute; it is the key variable in determining the Arkansas lawyer's reputability, grasp of the particular legal framework and the ability to construct a sound claim or defense.
Aside from the professional's experience, you should also take note of the litigant's educational background. An Arkansas lawyer's scholastic achievements provide a glimpse of the lawyer's capabilities, work ethic and understanding of law. Although education is important, it should not be the deciding factor when selecting an Arkansas lawyer.