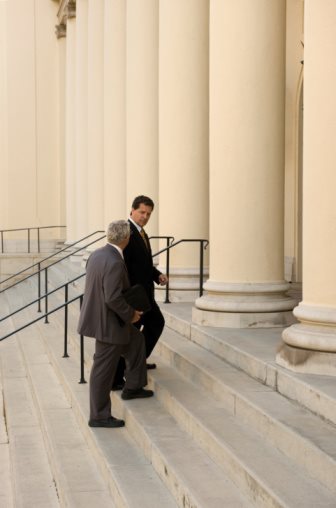 Civil Litigation Lawyer
A Civil Litigation Lawyer is an attorney who specializes in litigating in court on matters involving tort, contracts and other non-criminal lawsuits. Depending on the matter involved an individual will want to retain a Civil Litigation Lawyer who specializes in a specific field. A Civil Litigation Lawyer should have extensive experience dealing with judges, juries, and insurance companies. In complex civil litigation there are often a number of attorneys. Some will handle discovery, some will manage depositions and interrogatories. The Civil Litigation Attorneys primary responsibility is handling the trial itself. The Civil Litigation Lawyer will prepare witnesses, develop case strategy and argue admissibility of evidence. A Civil Litigation Lawyer should be an expert in civil procedure as well as the rules of evidence.
In many situations, especially those involving corporations, a Civil Litigation Lawyer will be on retainer whereas an individual who needs representation in an individual capacity will need to acquire their own attorney. This is usually done on a contingency fee basis if the individual is a plaintiff seeking money damages. If the individual is the defendant then the Civil Litigation Lawyer may require a retainer fee and charge hourly.
Business Litigation Lawyer & Commercial Litigation Lawyers
Business Litigation Lawyers represent corporations and other business entities in lawsuits. A Business Litigation Lawyer may be responsible for defending a corporation, partnership or other type of organization against issues ranging from class actions suits, contracts, IRS investigations, and any and all other suits that could be charged against a business.
Business Litigation Lawyers come in all types. There are those that are well practiced in Real Estate law and others that focus primarily on Intellectual Property. The make-up of a company's in-house Business Litigation Lawyers will vary depending on the extent of the entities business. Most often Business Litigation Lawyers deal with contract disputes between corporations.
Commercial Litigation Lawyers also deal with matters involving employees including alleged violations of governmental standards including OSHA and the FDA. Commercial Litigation Lawyers will deal with partnership disputes, franchising and shareholder issues. If the company is involved in discrimination action the Commercial Litigation Lawyer will be the representative of the company in the matter.
The Commercial Litigation Lawyer is usually a salaried employee of the company. For smaller businesses and partnerships a Commercial or Business Litigation Lawyer will have to be acquired for the action at hand. In those situations the Commercial Litigation Lawyer will charge a retainer fee and an hourly fee.
Probate/Estate/ Litigation Lawyers
A Probate Litigation Lawyer is an attorney who focuses his/her practice primarily in the area of testamentary litigation. When an individual dies his estate goes into probate. A Probate Litigation Lawyer is necessary when an individual wishes to create a will, codicil to a will or make other testamentary gifts. A Probate Litigation Lawyer will be adept at knowing the proper way to phrase dispositions in a will. The probate laws are very complex and exact and if one is to attempt to write his or her own will it could result in the will being rejected by the probate court and the testators assets falling into intestacy, where the assets will be divided according to the relationship with the deceased.
An Estate Litigation Lawyer will accomplish the same goals as a Probate Litigation Lawyer. His/her job is to ensure that the assets of a testator are properly left to those individuals designated in a testamentary document and avoid intestacy. An Estate Litigation Lawyer will often be able handle the creation and maintenance of trusts, powers of attorney, rights of survivorship and other matters dealing with the disposition of property at death. One of the most important things that an Estate Litigation Lawyer can accomplish is to avoid tax consequences associated with the disposition of property. The Estate tax is currently at %35 for those who have assets at death totaling more than $5 million. An Estate Litigation Lawyer can help a client dispose of his or her property in a certain way as to avoid, or mitigate, the effects of this, and other, taxes.
Tax Litigation Lawyer
A Tax Litigation Lawyer is responsible for representing clients in their involvement with the Internal Revenue Service. A Tax Litigation Lawyer is essential when an individual is being audited by either the state of federal government. Depending on whether the violation is negligent or willful, large or small, the penalties associated with tax evasion can be severe and include prison sentences. A Tax Litigation Lawyer is also beneficial in helping clients avoid tax liabilities. Where an accountant is qualified to manage assets to avoid tax liability a tax lawyer I knowledgeable about tax law and is more informed about recent developments and consequences of tax violations.
Securities Litigation Lawyer
Securities Litigation Lawyers deal primarily with stocks, bonds and other certificates that designate property held in a corporation or in the government. A Securities Litigation Lawyer should be experienced in practicing in both federal and state court. The federal government regulates the issuance and maintenance of securities through the Securities & Exchange Commission. The states regulate securities through what are known as Blue Sky Laws.
When a situation arise involving fraud, stock disputes and issues involving dividends a Securities Litigation Lawyer should be retained if the matter is serious enough.
Most often Securities Litigation Lawyers work for corporations or the government. It is the job of the Securities Litigation Lawyer who works for a corporation to keep abreast of current SEC regulations and keep the employer updated about specific matters relating to stocks and other corporate certificates. As an employee of the government the Securities Litigation Lawyer is responsible for monitoring the actions of corporations, stockholders and exchange commissions to ensure that regulations are being complied with, and if necessary prosecute the offenders.
Those who are considering becoming lawyers will most likely want to become litigation lawyers. In the United States, lawyers who are in good standing with the Bar Association can go into court and litigate cases.US can go before the court and argue a case.
A plaintiff is the person who initiates a lawsuit.US, it is not advisable. Litigation lawyers will then take the case based on merit. If representing a defendant in a lawsuit, a litigation lawyer will work on an hourly basis. They can work to settle the case or they can bring it all the way to trial.
Comments
comments